EliteMicro™ CD/DVD Duplicator from Disc Makers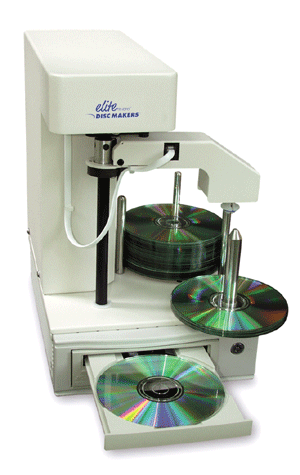 The EliteMicro™ is an entry-level automated CD/DVD duplication system for studios, independent musicians or small duplication businesses. Starting at just $1,590, Disc Makers' EliteMicro is a small and cost-effective duplication system taking only 8 1/2 x 11 inches of desktop space. Besides automating CD/DVD burning, you can add an onboard Autograph IV 1200 dpi inkjet printer for unattended on-disc printing. If you own any Primera inkjet printer, you can upgrade it to automated disc duplication with printing system just by adding the EliteMicro.
Available for both CD-R and DVD formats, the 48x EliteMicro duplicates at least 20 CD-Rs or 4 DVD-Rs per hour. The EliteMicro's input and output bins can hold up to 50 discs and the unit is easily connected to any PC running Windows® XP or 2000 using FireWire. The EliteMicro will work fine on a network so no additional hardware is required to incorporate the EliteMicro into an already established computer network. The EliteMicro comes with the easy-to-use Padus DiscJuggler disc duplication application.
The CD-R version of the EliteMicro sells for $1,590 while the DVD-R version costs $1,990. Both carry a three-year warranty on robotics, one year on drives and free lifetime technical support. For more about the EliteMicro and Disc Makers who, by the way, have CD/DVD manufacturing plants in both Pennsauken, NJ and Fremont, CA., telephone them at: 888-800-4046 or Web to www.discmakers.com/
---