DSound Stomp'n FX Vol.2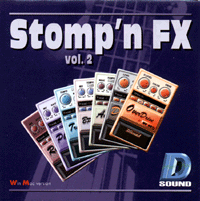 The Stomp'n FX Vol. 2 plug-ins from the Czech Republic's DSound are available in both DirectX and VST 2 PC/Mac versions. Stomp'n FX Vol. 2 consists of Reverb RV1, BPM Delay BD1, Overdrive OD1, Auto Pan AP1, Phaser PH1, Tremolo TR1 and Distortion DT1. Distortion DT1 has a similar graphic design to the Distortion DT1-Free (available for free download at www.DSound1.com ), but its audio processing has been improved with a warmer and more realistic sound.
This second release of guitar effects uses a new technology for virtual tube preamp simulation in effects like Overdrive OD1 and Distortion DT1. All these effects combine extremely high audio quality with the same user-friendly graphical interface users know from Stomp'n FX Vol.1. And like Vol.1, Vol. 2 runs under a DirectX or VST host for both MAC and PC applications like Cubase VST, Logic Audio, Spark, Digital Performer, Cakewalk, Sonic Foundry, Sek'd, Paris and Cool Edit 2000.
DSound is located at: nam. 9. kvetna 2, Boskovice 680 01 Czech Republic. You can call them at: 420 501 454769 or E-mail: sales@dsound1.com. The Web site is: www.dsound1.com
---