D-TAR Equinox™ Three-Band Parametric EQ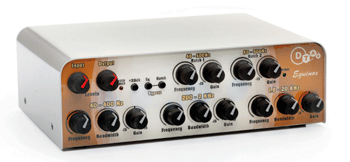 Duncan/Turner Acoustic Research or D-TAR is a collaboration between, Seymour Duncan Pickups and luthier and acoustic guitar pickup designer, Rick Turner. The diminutive Equinox is a three-band parametric equalizer preamp used to enhance and also correct (when needed), specific tonal areas inherently problematic when amplifying acoustic guitars. The three overlapping bands are: 39Hz to 408Hz, 212Hz to 2.35kHz, and 1.8kHz to 20kHz. As a true parametric equalizer, each band features independent controls for frequency, bandwidth (or how large a band of frequencies are affected at the same time and sometimes called quality or Q), and the level of boost or cut up to 15dB. With a true parametric equalizer, any musician can simultaneously enhance the deep low frequencies, reduce an annoying midrange 'bark,' and also bring out upper harmonic shimmer. In addition to the EQ stage, Equinox also has two independent tunable notch filters for elimination of acoustical feedback when playing through an amp or house PA. Notch 1 is adjustable from 40 to 400Hz and Notch 2 goes from 80 Hz to 800Hz.
As a portable stand-alone preamp with an extremely low noise floor, Equinox has a 20 dB gain boost input sensitivity switch to match any external gear, pro or not and makes the perfect interface between the acoustic guitar player and his live sound (FOH) mixer or studio recording engineer.
Equinox is part of the burgeoning D-TAR Box Series and interconnects with the Solstice™ two-channel mixer preamp. A single 1/4-inch stereo input jack connects Equinox's input and output to Solstice's insertion jack via a single, stereo cable. In addition to the Box Series, the D-TAR's line includes piezo pickups and on-board preamps for acoustic instruments. The entire range of D-TAR product releases can be viewed at: www.d-tar.com. Telephone them at: 805-964-9610.
---