Bozzio/Wackerman Video from DW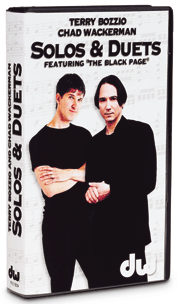 This "love-fest" between two great drummers was performed and recorded in front of a live audience at Musician's Institute in LA using state-of-the-art digital audio and video equipment. "Solos & Duets", an 85-minute video, starts with an introduction by Terry Bozzio and Chad Wackerman talking about their music, tours and working together. Music begins with Wackerman playing his two solo compositions, "All Sevens" and "Bash" followed by Bozzio and his (so far) unrecorded "Harmonic Etude." For this complex piece, he uses an octave and a third set of his specially designed piccolo tom-toms manufactured by DW Drums.
The duet portion of the show begins with an introduction of Frank Zappa's "The Black Page", a fully written-out music piece for trap drums only. Bozzio first played the original during his duties as Zappa's drummer and now both he and Wackerman (also a Zappa alumni) perform a note-perfect duet version here. The tape continues with the dual drummer pieces "Duet #1" and "Duet #2" and wisely uses interview footage of the two musicians as intermissions. It's good to hear Wackerman and Bozzio discuss their choice of instruments, approach to both written and improvisational drumming, and their individual experiences working with the legendary Zappa.
"Solos & Duets" sells for $29.95 MSRP and should be a part of every drummer's video library. Drum Workshop, Inc. at 3450 Lunar Court, Oxnard, CA 93030, USA. Phone them at: 805-485-6999 or FAX 805-485-1334 or E-mail to: dw@dwdrums.com or WEB to: dwdrums.com
---