Percussive Adventures 2 From EastWest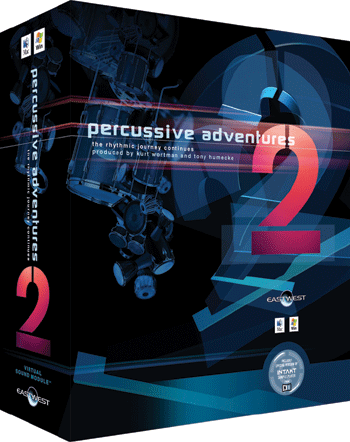 Percussive Adventures 2 expands on the very successful PA 1 with blends of organic and strange electronic rhythmic sound sources that are syncable to your sequencer at any tempo. PA 2 is a huge collection of percussion sound designs that come on a DVD-ROM and play back in VST, Dxi, ASIO, RTAS, Audio Units, Core Audio or DirectSound formats. Both MAC OSX and PCs are supported. No sampler is required as PA comes with a special version of Native Instruments' Intakt Sampler. PA 2 runs as a standalone or plug-in application. The loops have been set up so that they can be automatically synced to tempo using the Time Machine--built-in time stretching or compression in real time. Not only can you sync, stretch, and pitch the loops, but also filter, effect and modulate them as well. There are powerful sound-shaping filters, flexible envelopes, syncable LFOs, distortion, syncable delay, and lo-fi effects for adding your own energy, ideas and individuality to the loops.
There are 70, full multi-layered pieces from full beds (full mixes), full bed loops, alternate mixes, phrases, endings, individual elements/layers, and some individual hits. Most of these pieces are complete--standing on their own. But you can easily expand, contract, rearrange and remix to fit your needs.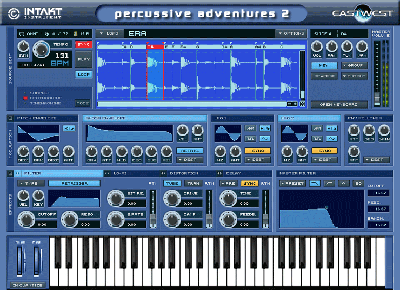 Besides percussion, PA 2 also has ambient flowing textures and events perfect for combining with the rhythmic beds for complete soundtracks. The producers have cleverly combined similar elements from all the titles into three huge patches: Big Hit, Ambi Ants and Movers and Shakers.
Available by the end of May 2004, Percussive Adventures 2 sells for $399 and is available from EastWest and www.soundsonline.com.
---