eMedia's Guitar Songs Version 2.0 and
Intermediate Guitar Method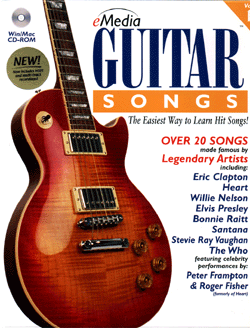 eMedia's Guitar Songs is available in both Windows PC and MAC versions on a single CD-ROM and has a new speed feature where the MIDI tracks can be slowed down for beginning students. The on-screen fretboard is animated to show fingerings synchronized to the music. You'll see string bends, vibratos and slides just as you must play to duplicate the guitar parts for the 20 included songs. A newly revised song looping method allows complicated sections to be repeated.All songs have full backing instrumentation with lyrics and the option to read music either with standard music staves or with guitar tablature. There is also an instrument "minus one" feature where the bass or guitar can be subtracted from the mix so you can play along.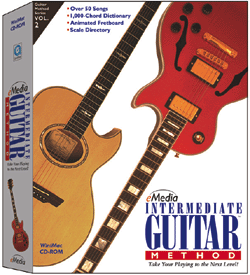 There are celebrity performances by Peter Frampton with his seminal "Baby I Love Your Way" and Roger Fisher, former founding member and guitarist in Heart, playing their big hit "Magic Man". Other featured songs are: Eric Clapton's "Before You Accuse Me" and Melissa Etheridge's "I'm The Only One". Covering many styles, there are also songs made popular by Willie Nelson, Bonnie Raitt, Stevie Ray Vaughan, The Who, Ray Charles, Jim Croce, Elvis, Otis Redding, Santana and the Talking Heads.
eMedia's other new product, Intermediate Guitar Method, teaches solos from Clapton and Jimi Hendrix and covers left-handed technique, barre chords, different strumming styles and basic improvisation. The perfect companion to Guitar Songs, IGM adds 60% more content with a 200 scale dictionary, a circle of fifths component, fifty more songs, automatic tuner, recorder and a 1,000-chord dictionary.
Guitar Songs version 2.0 sells for $29.95 MSRP and Intermediate sells for $59.95. For more information, contact eMedia Music Corp, at 206-329-5657 or visit www.emediamusic.com.
---