eMedia's Guitar Method Version 3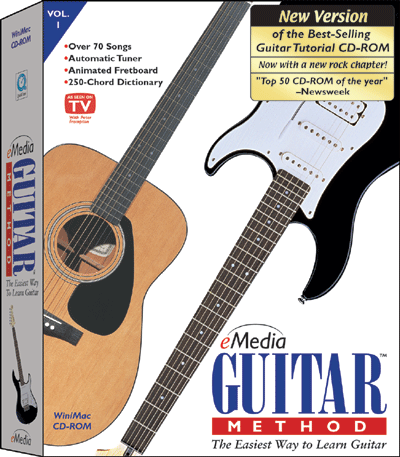 Once again eMedia comes through with a great new version of their guitar tutorial CD-ROM. Version 3 has a new split-screen video to show both hands on the guitar and like previous versions, Guitar Method is available as a hybrid CD-ROM that works in both Windows PC and MAC (including OS X).
New lessons in Version 3 include: moveable power chords, palm muting, Rock and Punk styled strums, and 20 new videos with a full-screen mode so you don't have to be so close to your monitor to see and read.
The popularity of this series stems from the songs used to teach. There are over 160 lessons and 70 hit songs like "Knockin' On Heaven's Door" done in a Guns N' Roses style; "Little Red Rooster" like the Stones do it; "Downtown Train"; "Dreamboat Annie" in the Heart style; and "La Bamba." These songs play along with an animated fretboard showing the chords. You can loop sections, see the music notated normally or in guitar tablature, slow the music down for learning, and listen to spoken hints and advice from the instructor.
Other built-in features are: an automatic tuner for tuning your guitar; record and play back yourself: (both these features require a microphone input to your soundcard); a digital metronome; and a chord dictionary with multiple fingerings and audio playback of over 250 chords.
For much more contact eMedia at 888-363-3424 or visit www.emediamusic.com. eMedia Guitar Method sells for $59.95 MSRP.
---