eMedia's Piano & Keyboard Method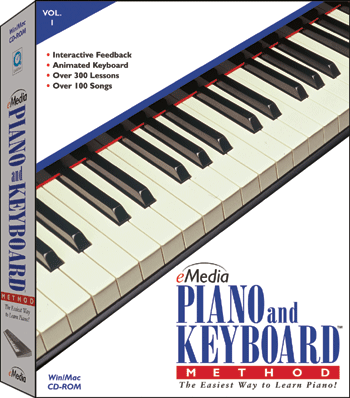 eMedia struck a chord with beginning guitar players with their very successful Guitar Method series and the new Piano & Keyboard Method will be another winner too. Instructor Irma Irene Justicia, who has a master's degree from Mannes College of Music in New York, starts with the basics then progresses through sight-reading, creating accompaniments, and transposition--all skills needed for independent music exploration. There are over 300 lesson videos to demonstrate techniques and many review screens help reinforce just-learned musical concepts. In the tradition of all eMedia's educational software, lessons are song-based with over 100 songs making learning fun and rewarding. In addition to high-quality live recordings, the CD also has colorful variable-speed MIDI accompaniments adjustable to your speed and skill level.
The CD's interactivity comes into your lessons by automatically flagging mistakes while you play--just as a piano teacher would. eMedia Piano & Keyboard Method's (for both PC and MAC) sells for $59.95. An Educator Edition with special features for teachers and classroom instruction sells for $99.95. Both CD-ROMs have installers for both Windows and Macintosh platforms. eMedia Music is at 664 NE Northlake Way, Seattle, WA 98105. Telephone 206-329-5657 or visit www.emediamusic.com.
---