PARIS Pro ver 3.0 from E-MU/ENSONIQ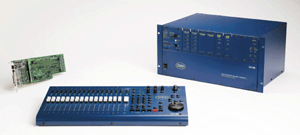 PARIS Pro, the Pro Digital Audio Workstation, has introduced a major upgrade with version 3.0 software. PARIS Pro 3.0 is a complete 24-bit digital audio workstation using a modular expansion chassis (MEC) and a dedicated 16-channel, C-16 hardware controller surface with EQ, transport, edit and automation controls. PARIS uses either MAC or PC computer platforms and new features in 3.0 include: 24-bit OMF (that's Avid's Open Media Framework) Import/Export, full MIDI support, and a more intuitive user interface. The new waveform editor provides powerful editing tools that let you manipulate audio at the sample level within the PARIS application. PARIS Pro is compatible with both VST and DirectX plug-ins.

PARIS Pro 3.0 is expandable up to 128 real-time tracks by installing additional PCI cards in the MEC. In addition to hardware tracks, PARIS Pro 3.0 offers unlimited native tracks. The MEC can be customized for almost any audio application using the many 24-bit I/O and sync modules currently available.

Founded in 1981, ENSONIQ is a pioneer in keyboards and digital audio workstations for musicians and audio engineers. In January 1999, E-MU Systems combined operations with ENSONIQ of Malvern, PA, to become E-MU/ENSONIQ, based in Scotts Valley, CA. E-MU/ENSONIQ is a wholly owned subsidiary of Creative Technology, Ltd. For more information E-mail: literature@emu.com or call 831-438-1921.The MSRP for the basic package including PCI card, Control 16 and MEC is $4995.
---