50th Anniversary 1954 Fender Stratocaster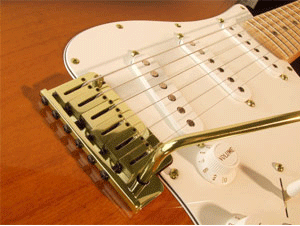 For a limited time you can buy an exact replica of a 1954 Fender Stratocaster guitar made by the Fender Custom Shop. So exactly like the original, the Custom Shop retooled their machines and changed their manufacturing methods to produce the correct body and neck shapes of the 50-year old instrument.
You'll get a solid ash body, oversized Alnico three-pole magnets in the single coil pickups actually wound by Abigail Ybarra--who probably wound the original pickups because she has worked for Fender since the 1950s. The same original styrene plastic blend is used to make the pickup covers, knobs, switch caps and pickguard.

The Custom Shop 50th Anniversary 1954 Stratocaster comes only in a lightly aged vintage correct two-tone Sunburst lacquer finish with one-piece neck and fretboard. Selling for $5,400 MSRP, the 1954 Strat comes with a replicated original form-fitting case.
To further celebrate, Fender has released the American Deluxe Series Strat with a two-point synchronized tremolo bridge with pop-in arm. There is a three-ply parchment pickguard sporting a commemorative logo and aged plastic, abalone dot inlays, deluxe staggered tuners, and an engraved neck plate. This guitar will sell for $1,713.99.
The Limited Edition 50th Anniversary American Series Stratocaster, at $1,499.99, comes with a solid ash body, polyurethane two-tone Sunburst, maple neck, parchment pickguard, tremolo bridge, and a 9.5-inch radius fingerboard with medium frets.
All of these guitars, unveiled at the recent Winter 2004 NAMM Show must be order before December 31st, 2004. Contact Fender at www.fenderusa.com
---