Fender Cyber-Twin Amp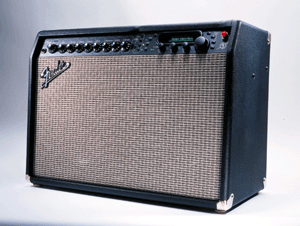 The Cyber-Twin amplifier uses Fender's Cybernetic Amp Design technology -a combination of analog and digital circuits to construct over 120 classic and modern classic amplifiers tones. Quick to point out that this is "not another modeling amp", Fender engineers' say the electronic architecture literally recreates the original amplifier's schematic you have selected. Since you are playing through the actual amp circuit, you'll have all the sonic personalities and possibilities. This is a step forward from amp DSP modeling where a single "snapshot" of a specific amp setting is used and modified with an equalizer.
With two 12AX7WA tubes, the Cyber-Twin has the capability of placing any one of four tone stacks before or after the distortion circuitry, offering the best of American and British amplifier voicings. There are 35 classic and modern pre-sets to choose from all accessible by a large control dial. The Custom Shop feature adds 85 more of Fender's own, all fully adjustable, pre-set creations and then 85 additional memory locations ready for saving your own custom changes. This amp would not be complete without built-in effects and there are complete digital effects processing section with: chorus, reverb echo and many more you can save along with your amp type and tone settings.
The Cyber-Twin features 130 Watts of stereo output (65 Watts per channel) through 2x12 inch Celestion G12T-100 speakers and sells for $1,699 . For much more about this new amplifier technology, contact Fender Musical Instruments at 7975 N. Hayden Road-C-100, Scottsdale, AZ 85258-3247. Phone them at: 480-596-9690, FAX at: 480-596-1384 or visit: www.fender.com.
---