FingerWeight Finger Training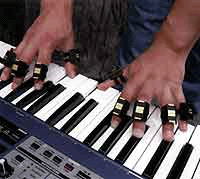 FingerWeight Corporation has a progressive weight training and stretching program for your hands and fingers. Of course exercise and conditioning increases strength, endurance and improves flexibility even for your hands. The "one size fit all" FingerWeight rings each weighing five grams can be positioned on any finger allowing for maximum comfort and movement.
The weights are made from 24-karat gold-plated zinc with the ability to add an additional five or ten grams per finger. None of this would be useful without the included FingerWeights Hand Health System.
These are 12 exercises for strengthening the muscles of the hands, increasing flexibility and endurance. The price for the ten finger set of FingerWeights is $89.95 while the five finger set goes for $54.95. Order them only through the Web site at: www.fingerweights.com. FingerWeight Corporation is located in Lake Zurich, Illinois and for more information contact Falk Associates at 6727 North Minnehaha, Lincolnwood, IL 60712. Phone at: 847-675-2580 or FAX at: 847-675-2582.
---