Floyd Rose Redmond Series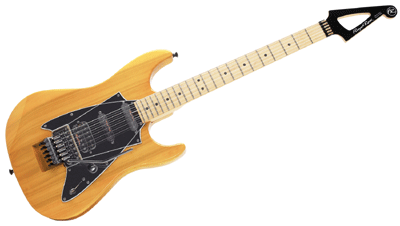 Pictured is the Floyd Rose Redmond Series Model 3 electric, one of six different new guitars from Floyd Rose. The Model 3 comes with a Floyd Rose™ Vintage series humbucker in the bridge position and two Vintage series single coil pickups. The five-position switch lets you select the humbucker only or add the middle single coil for that classic "out-of-phase" sound.
The Redmond Series guitars are made of swamp ash or poplar come finished in black, white, three-color sunburst transparent red, blue and amber. There are also twelve custom colors available. The neck is a bolt-on maple with a twelve-inch radius, 22 jumbo frets, a 1.65-inch nut width and your choice of rosewood or maple fingerboard. The Redmond Model K comes with a body made of Korina or African Limba.
I was very impressed with a standard feature on all the Redmond Series: the Speedloader™ bridge. Using special-made strings (more later) you can change a string in about 15 seconds and magically, it comes up nearly in tune! It is said you can change a whole set in the time it takes to open the string's packaging. Furthermore, you'll never need a string winder or wire cutters again. Speedloader bridges come in both fixed and tremolo models and in black, satin chrome or gold colors. The tremolo models feature TremStopper™ that locks out the tremolo action with a twist of screw.
Floyd Rose Speedloader strings come in standard gauges .008 to .011, light top/heavy bottom sets .009 to .010 and .012 & .013 drop tuning sets. For much more about the new Redmond Series and all things Floyd Rose, contact them at www.floydrose.com or telephone 425-861-7089.
---