Choosing And Using Audio And Music Software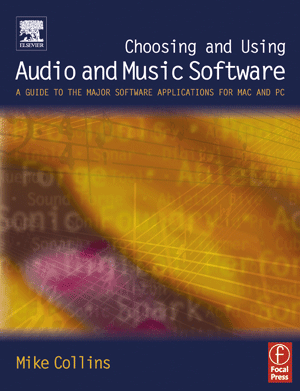 Choosing And Using Audio And Music Software by Mike Collins is the first book you should consult when considering learning or switching to any of the popular music sequencer/DAW programs. Collins takes you, after a brief history and overview of music programs including sage advice about the MAC vs. PC conundrum, on an overview of the currently most-used and popular music production programs.
Part 2 of the book contains six chapters on: Cakewalk Sonar XL, Cubase SX, Logic Audio Platinum including a EXS24 sampler tutorial, MOTU's Digital Performer, Steinberg's Nuendo, and last but not least, Digidesign's Pro Tools. The major features and operating ethos of each system are well covered in each of these sections helping you decide which is right for you. Perfect if you are just starting out or plan on switching from one program to another.
Part 3 covers waveform editors such as Bias Peak, TC|Works Spark XL, Prosoniq sonicWORX, Cool Edit Pro, Steinberg's Wavelab, and Sony's Sonic Foundry. I found these sections very helpful when confronted with these programs in the course of my engineering work with new clients. All the salient information I needed to tell me quickly what I could do or not do with these programs was there. (I already use both Wavelab and Sonic Foundry)
The book finishes off with very useful appendices on: transferring files between two different programs (An often crucial and mysterious process), and music scoring using both Sibelius' and Coda Music Technology's Finale scoring programs.
Choosing And Using Audio And Music Software is a great 512-page read and I recommend it highly for anyone interested in getting to know any of these programs first before investing the necessary money and time it takes to get musically productive with them. From Focal Press, it sells for $44.95 and for more information, contact www.focalpress.com.




Choosing And Using Audio And Music Software
---