Fostex MR-8 8-Track Digital Audio Recorder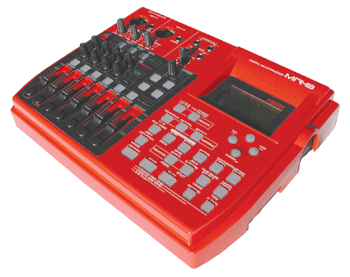 The MR-8 uses Compact Flash Cards to store digital audio using an uncompressed, linear CD quality 16-bit/44.1kHz format. The MR-8 is the ultimate state-of-the-art, portable eight-track recording studio with up to 25 track-minutes on the 128MB Compact Flash Card supplied and a complete set of on-board effects such as reverb, delay, guitar distortion, amp and mic simulations, and mastering tools. The Extended Mode doubles the time available and you can buy larger capacity flash cards too.
The MR-8 measures 2.5H x 12W x 8.5D inches, weighs 3.5 lbs and runs on 6 AA alkaline batteries for about 3 hours of normal mode recording time. There are dual XLR mic inputs, two guitar inputs, two headphone outputs, S/PDIF digital output, a USB port for .WAV file import/export and CD burning using a PC interface. All functions are controlled using a non menu-driven 128 x 64 dot matrix display and illuminated control buttons. There is even a built-in mic for quick voice memo recording or to "slate" (identify) different song takes.
The MR-8 sells for $299 MSRP and for more information contact Fostex Corporation at 15431 Blackburn Ave. Norwalk, CA 90650. Telephone 562-921-1112 or Web to: www.fostex.com.
---