Fostex PM0.5 Powered Monitors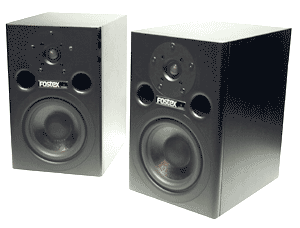 The powerful little brother to the PM-1 monitor, the Fostex PM0.5 has a five-inch LF driver with a cone made of a mixture of cut and milled fibers made from aromatic polyamide. The cone is then impregnated with resins to simultaneously achieve high rigidity and optimum damping. The voice coil is made of super high purity copper wire to achieve very low distortion of less than 0.01% at 25 watts power. The 3/4-inch soft dome tweeter uses Fostex UFLC technology (Poly Urethane Film Laminated Cloth) for both lightweight and stability. Both drivers are powered by specifically matched amplifiers--40 Watts RMS for the woofer and 30 Watts RMS for the tweeter and will deliver 105dB SPL from 80Hz to 3kHz. Free field response is 50Hz to 20kHz +/- 2dB.
Performance is tailored further by the use of cut-off filters: 40 Hz for the woofer and 22kHz for the tweeter. These safeguards prevent the drivers from attempting to reproduce frequencies outside of their performance specifications.
The PM0.5 sell for $349 MSRP per pair and for much more about these cool small studio monitors contact Fostex America at www.fostex.com
---