BFD Drum Kit from Fxpansion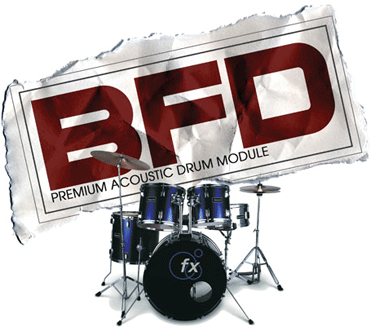 BFD is a software-based acoustic drum module that runs in all the latest desktop DAW platforms--RTAS, VSTi, DXi, ReWire, AU and stand-alone on Mac OS X and Windows 2000/XP. With this "streaming technology" drum samples play off your hard-drive directly so every last bit of tom-tom sustain or cymbal ring out are reproduced. Unlike a loop or most drum samplers, BFD's sample collection contains many different "hits" of each drum like real drummers use. For example, each snare drum sample has flams, drags, rim shots and side stick hits. Each of these hits were sampled at up to 46 velocity layers and recorded at 24-bit simultaneously through eleven microphones using the same techniques, prized microphones and pre-amps professional recording engineers love to use when recording drum kits for records. All the kits were recorded here in L.A. at Eldorado studios by Steve Duda and are "the real deal." BFD, which is a two DVD-ROM package, comes with seven complete kits and many extra kicks, snares and special cymbals. All are great soounding and we especially liked the Slingerland, Leedy and DW kits.
All of this alone would be very notable except the wonderful GUI lets you remix the kits from separate drum tracks just as you would in the studio. You have control over the individual pan position of each drum or cymbal, the close mic level, and separate controls for the level of the overhead mics, room mics and PZM floor mics. You can change the distance and width of the stereo image and control the amount of leakage picked up by each mic that occurs in an actual multitrack drum kit recording. You can also change the pitch of any individual drum in which the pitch (for that drum) of the overheads, room mics and leakage sounds also changes. Awesome!
BFD completes the package with many other features like: freely substitute any drum with another for building custom kits; a powerful automated drummer and rhythm composer with over 1000 ready-to-use grooves; and variable sound and feel by way of a dynamic humanization algorithm.
BFD sells for $399 MSRP or $299 online and gives you more control over the sound and feel of drums than ever before. Read more about it at www.fxpansion.com and the U.S. distributor is www.eblitzaudiolabs.com. There is also the 22GB XFL library now out with gazillions of new samples including many cymbals.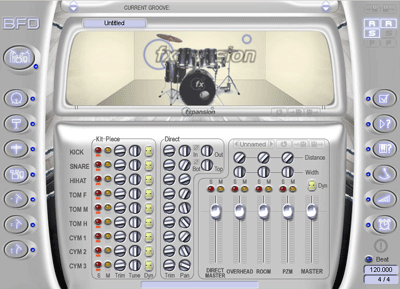 ---