Multi-Media JustEnough Learning Kits from Mel Bay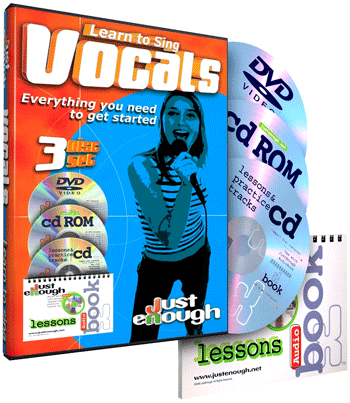 The JustEnough Learning Kits are wonderful "starter kits" for kids or really anybody interested in learning a musical instrument. These kits use technology kids and most adults are already comfortable with: their computer, stereo, DVD player and TV. There are four kits currently available for learning guitar, drums, bass and singing. Each kit consists of a DVD video, a CD-ROM of lessons, and a practice music CD that comes with a cool little pocket book. The idea is take a kid's budding interest in learning a musical instrument and develop 'just enough' skills to get them to the level where they should begin a formal regime of instructional lessons with a teacher.
I checked out the "Learn To Play Drums" kit and the DVD video gets into the lives of three teenagers who really want to learn and play drums. They talked about getting started and offered good tips to the beginner. In a kind of "reality TV" production style, the DVD teaches at any person's own pace and makes learning as fun as possible. I liked that the advice is coming from ordinary looking kids and not some professional 'spokesperson.'
The CD-ROM has chapters on buying drums, drum fills, stroke rolls, hand drumming, different styles and practice tracks. It also includes a direct connection to www.justenough.net where you can post questions or comments. The third disc is a music CD where a lot of the DVD and CD-ROM content is repeated so if you don't have a DVD player or computer handy, you can continue learning with a simple CD player. The booklet follows the CD with track numbers for each page.
Finally, each kit includes a Lesson Plan and a checklist to map your progress. So after you fully understand beats, time values and measures, you can move on to counting and eventually playing hand drums and ultimately a full set of traps. All together in plastic DVD cases, the three discs and booklet sell for $19.95. They are available from JustEnough Learning Inc., Carmel, CA, through Mel Bay Publishing, most retailers nationwide or at www.justenough.net
---