Line 6 Variax Digital Modeling Guitar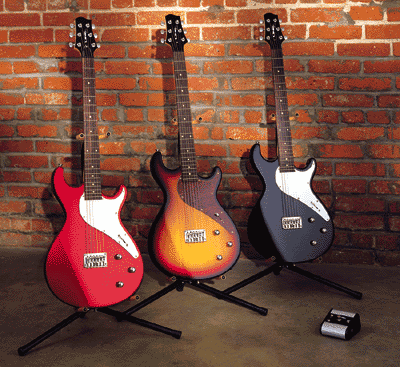 The Line 6 Variax is a digital modeling guitar with all electronics contained within the instrument's body. You connect and play like any regular electric guitar using a standard guitar cord and amp. Variax's straight ahead operation will light up most player's faces that are NOT interested in programming or dragging around extra digital guitar modeling gear. There is an eleven-position rotary bank switch and five-way pickup switch that selects from a possible 50 different guitar models. Actually the number is closer to 25 guitars since the pickup switch changes (in some cases) between different pickup variations of the same guitar.
Guitars models analyzed for modeling include all the faves like: Fender Strats, Teles and Tele Customs; Gibson ES-175, ES-335, Firebird VII, J-200, L5, Les Paul Custom, Les Paul Special, Les Paul Standard and Gibson Mastertone Banjos; Gretsch 6120 and Duo-Jet; Guild F212; Martin 0-18, D-12-28 and D-28; National Tricone; Rickenbacker 360 and 360-12; Coral/Dano Electric Sitar and Danelectro 3021; and a Dobro Number 32. The eleventh switch position is a custom bank where copies of the five guitar models you use most are stored for quick access.
Changing from one model to another is instant and tuning is the same as a regular guitar--you can do your own special tunings and play exactly like you always have. Line 6 emphasizes that this custom-crafted solid-body guitar requires no new learning curve or special knowledge to pick it up and rock. The Variax uses a hexaphonic bridge pickup to read string vibrations and convey them to the internal electronics and software. The guitar models are realistic with both the tone and volume controls emulating the same action you'd find on the actual guitar.
At $1,399.99 MSRP, the Variax comes with a custom-fitted gig bag and A/B floor switch for changing from your guitar amp for electric sounds over to the house PA for acoustic guitar or banjo models. There is also a hidden computer interface jack for future model update/additions to the guitar's software. Contact Line 6 in Line 6 in Agoura Hills, CA at 818-575-3600 or go to www.line6.com
---