DJ remixing Kit from Magix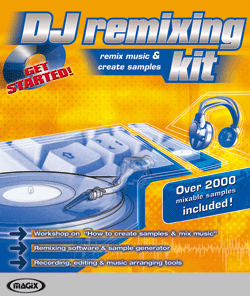 DJ remixing Kit is new software from Magix with everything you'll need to become a virtual music producer and DJ remixer...that is, using your PC instead of expensive studio gear and turntables. In the Music Maker section, you'll create your own samples using virtual musical instruments or sampling from records and CDs. You can make up drum grooves and loops with the Beatbox and then edit in real-time using the many included effects. This is also where you can change tempo and match loops to new samples. If you'd like a collage of video clips running at the same time in sync with your music, load up any video clips and see them along with the music.
Once you have all your loops and samples organized and popping, you can use the remixR mode to mix live just like a DJ. You can 'scratch,' 'cut' (crossfade) and BPM match +/- 40% just like DJs do with real turntables. There are eight sample trigger buttons for firing one-shot noises and sound effects. Finally, there are real-time audio effects you can use to further tweak your mixes. Once your mix is perfect, record it for playback later.
For PCs only right now, Magix' DJ remixing Kit sells for $39.99 MSRP and for much more, contact Magix Entertainment at www.magix.com
---