Magix Movies On CD & DVD 2004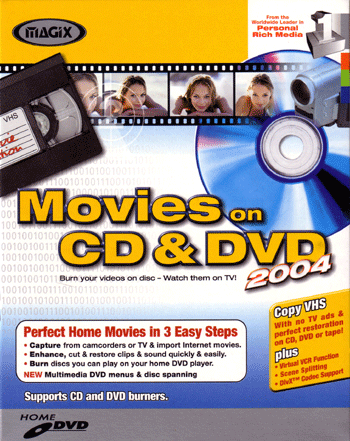 Magix's Movies On CD & DVD 2004 is their latest home video DVD/CD authoring software for PCs. (sorry no MAC version yet). After you install a video capture card that's OHCI-compatible IEEE-1394 DV Firewire™ and has a DirectX8a driver, you're all set to import DV files from your handy cam. If your capture card accepts analog, you can make digital copies from VHS or even from broadcast TV shows with the built-in TV tuner program remote control.
This program lets you restore videos that are dark or flickering and then remove commericals and edit scenes together to tell a story all your own. There are also audio editing tools for adding or restoring audio along with picture. If for only archiving to CD or DVD all of your deteriorating VHS tapes, this is program is worth the $39.99 MSRP. To further your storytelling, you can then add special transitional effects (wipes, dissolves and blurs) from a list of 30 included. There are also over 350 animations, video, text, image and sound templates you can use royalty-free.
Regardless of how long your narrative ends up, Movies On CD & DVD 2004 will automatically divided it up onto multiple discs and you can use all the extra DVD functions as well. You can create professional menus, animated link buttons and backgrounds and scene previews.
Movies On CD & DVD 2004 supports Microsoft® Windows® Media 9 and Real Helix™ streaming formats and also the DivX™ codec so you can send your movies over the Internet. It will export MPEG 1,2, &4, WM9, QuickTime™, and Real Helix and burns VCD, SVCD and DVD discs. For more information, contact Magix at 888-866-2449 or visit www.magix.com
---