Magix Photo Cleaning Lab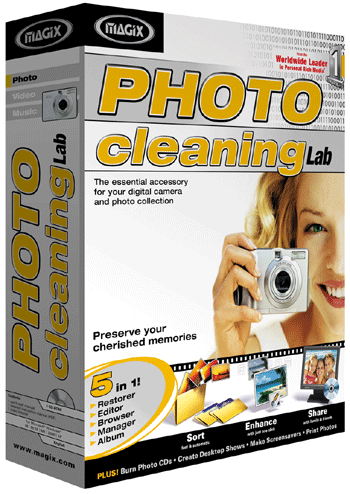 If you own a digital camera then you'll soon want Magix's Photo Cleaning Lab that runs on PCs under Windows® and does many operations more expensive programs like Adobe Photoshop cannot. I liked the Import and View function because you can quickly see your new photos without long loading times. This program will import/export just about any image format known to man like: .jpg, .psd, .bmp, .tiff, .png and more. You can also deal with video and sound formats captured by many digital cameras.
Once you've got your images imported, you'll need to manage and organize them in the program's intuitive database with search function. Here, you can add titles, thematically sort your collections, and build any number of photo albums. Photo Cleaning Lab's batch processor is a tedium-saving wonder for processing giant folders of pictures into different formats, such as for Web site and e-mailing use. You can also color correct or reduce common 'red-eye.' I found spending hours restoring, resizing, retouching and fixing exposure problems in real-time, relaxing--I fixed problems with my original photography while reliving my memories.
Photo Clinic 3.0 is a 24-bit editor that repairs scratch, torn or spotted photos and lets you add any of over 40 artistic effects. You can arrange photos in montages, collages or panoramas.
Once you've perfected your images, you can change them into screensavers (great for e-mailing to family members), print them out or burn Photo CD-ROMS as well as archive on standard CD-ROMS.
Magix Photo Cleaning Lab sells for $39.99 and for much more about it visit www.magix.com or call 888-866-2449.
---