Curt Mangan Fusion Matched Strings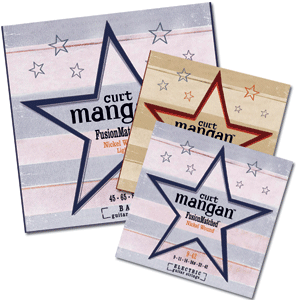 Guitar string industry veteran Curt Mangan's Fusion Matched™ process involves combining materials and workmanship to create matched harmonizing attributes. These strings use premium wire with a finely tuned core-to-wrap ratio and are precision-made in the USA. Mangan says: "these are all important details help to create guitar and bass strings with consistently great tone and feel."
Prices start at $4.99 per set with a 20% discount for orders over $20. Shipping is free on all orders shipped in the USA and there is no minimum order. International orders are subject to a flat shipping rate of $15.
All products are covered under the company's risk free 100% money back guarantee. You can "Take The Tone Test™" and try one set of Curt Mangan™ Fusion Matched™ strings on your guitar or bass and, if not completely satisfied, mail the one used set back along with any remaining un-used sets for a full refund.
For more information or to place an order, log on to www.curtmangan.com or phone toll-free at 866-463-2878, International 805-239-2964.
---