Orion Orbitor from Mapex Drums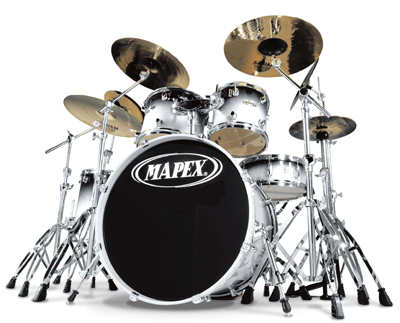 The new series of drums called Orion Orbitor are all maple drum sets and part of the Mapex Artist Select line. Designed and built specifically with the demands of professional drummers in mind, the drums feature all maple shell construction and have Mapex's exclusive Isolated Tom System for improved tone, sustain and resonance.
All these kits are manufactured in Mapex's brand new, modern wholly owned ISO-9001-compliant manufacturing facility overseas. A standard Orion Orbitor set includes a five-piece shell kit with a 22" x 18" bass drum, 10" x 7" and 12" x 8" rack toms, a 14" x 14" floor tom, and a 14" x 5.5" snare drum. An 8" x 7" rack tom and a 16" x 16" floor tom are available as optional add-ons.
The ultra-thin all Maple shells include color-matched lacquered bass drum hoops and single point contact low-mass lugs for maximum resonance. Like all Mapex Artist Select Series drums, Orion Orbitor kits are covered by the Mapex warranty.
Orion Orbitor drumsets sell between $999 and $1,499 MSRP and are available in Aquamarine, Tobacco Fade, and Boston Pewter high-gloss lacquer finishes. Each drum is equipped with premium Remo drumheads and a choice of Mapex's most durable and the reliable hardware--Mapex 320, Mapex 550 or the Mapex 950 series. Mapex USA, Inc. is located at 118 Wheeler St., LaVergne, TN 37086. The telephone number is: 615-793-2050. The web address is www.mapexdrums.com.
---