Marathon G•Rack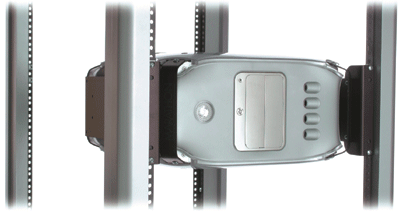 Pictured is the horizontal mounting option using the new Marathon G•Rack G3 or G4 MAC computer rack mount kit. You can also rack mount two G4 computers side by side vertically using the Verizontals™ kit. Either way, this has proven to be the simplest solution for rack mounting MAC computers within digital audio/video workstations. Made of lightweight, super-strong aircraft aluminum, the G•Rack attaches securely to any Quicksilver, Graphite G4, or blue and white G3 allowing its installation into any standard 19-inch rack.
Marathon, to prove how simple this is to do, sent me a G•Rack kit to install myself. All you have to do is remove the computer's four handles and replace them with the G•Rack assembly. Four screws attach the G•Rack backbones to your tower case; four more secure it in the rack. All special tools and hardware are provided and once the G•Rack is part of your computer, just mount it all in your rack like any other rack mountable gear. Trust me if you have mounted gear in your rack before, you and a powered screwdriver can do this too. I loved the results--the MAC is off the floor and away in the rack taking up only 6U of space.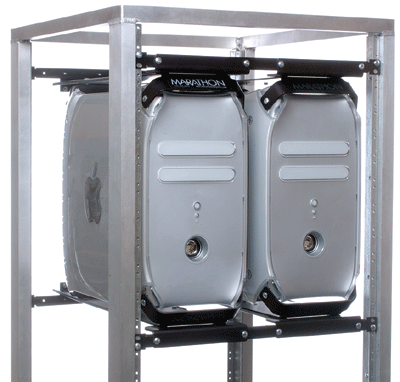 There are three different horizontal kits offered. You can use the Front Rail Mount kit for most racks with only front rails or go to the Front and Rear Mount kit with adjustable rear rack ears that slide out for racks 16.5 to 28.44-inches deep. This more robust front and rear installation is a good idea for rigs in mobile cartage cases. If you are in and out of your computer's innards a lot, better get the Slide Access kit that replaces the G•Rack's adjustable rear ears with Telescoping Slide Rails. With Slide Rails installed, simply pull your computer out of the cabinet like a drawer and pop the top to pull a card or add RAM etc. Slide rails are available for rack depths of 21 to 28 inches.
The Marathon G•Rack basic kit sells for $200 MSRP with Verizontals, rear and slide rails kits extra. There is a limited lifetime warranty and a set of anti-gravity clips are included that go around the outside edges of the CD/DVD-ROM disc tray to allow the drive to work in a vertical orientation. By Christmas 2003, there will be a Marathon kit for racking up the new G5 MACS. For more, contact Marathon Computer Inc. at 800-832-6326 or 615-367-6467. Visit www.marathoncomputer.com/.
---