Dean Markley Alchemy™ Strings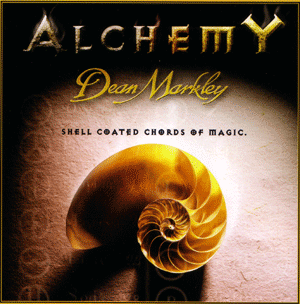 Alchemy is a new line of bronze acoustic guitar strings from Dean Markley. So far there are two lines of Alchemy strings: GoldBronze™ made using 85% copper and 15% zinc and GoldPhos™ with 92% copper and 8% zinc. Both flavors use MC394K Bright-Coat®, an aerospace compound coating said to make the strings bright, clear and play easier with prolonged life.
The GoldBronze strings uses a bronze outer wrap with a bronze electro-plated and tinned mandolin wire core while GoldPhos goes with the phosphor bronze outer over the industry's first and only phosphor bronze electro-plated tinned mandolin core wire.
The GoldBronze are said to have fantastic highs, crystal clear harmonics and smooth and clean bass response. The GoldPhos have clean and powerful highs, clear harmonics and smooth full bass.
Like all Dean Markley strings, both core wires are drawn though diamond dies for exact, consistent diameter and tensil strength throughout the string's entire length. Alchemy Gold Bronze strings are $26 per set while the Gold Phos go for $27 a set and both come in three gauge sets: LT or 11s to 56; CL or 12s to 54 and Med with 13s to 56s on the E string. Dean Markley in Santa Clara, CA at 800-800-1008. Visit www.deanmarkley.com.
---