M-Audio's Delta TDIF Audio Card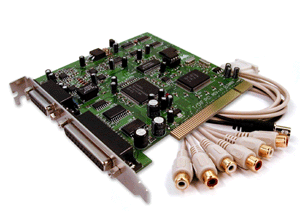 The new entry to the line of Delta PCI audio interfaces from Midiman subsidiary M-Audio is the Delta TDIF. Delta TDIF provides a 24bit/96kHz/48kHz TDIF multi-channel digital I/O between your computer and any standard Tascam TDIF-1 capable device. The Delta TDIF is a "must-have" component for any computer-based digital audio workstation (DAW) used in surround sound production where the Sony/Tascam Hi-8 tape format (DTRS) has become the de facto digital tape standard.
The Delta series provides a variety of choices for analog I/O configurations and S/PDIF digital I/O with copy protection and data stream selections that support Dolby Digital 5.1, DTS, Alesis ADAT™Lightpipe and soon, Roland R-BUS™ devices. A breakout cable has both stereo analog I/O and S/PDIF I/O on gold-plated RCA jacks along with a word clock BNC output jack for external sync to other digital audio devices. Software driver support includes ASIO, EASI, GSIF and MME, Sound Manager and WDM drivers.
MSRP for the Delta TDIF is $349.95. Contact Midiman at 45 E. Saint Joseph St., Arcadia, CA, 91006; Tel: 626-445-2842; Fax: 626-445-7564 or visit: www.midiman.net and www.m-audio.com.
---