Maxell Noise Cancellation Headphones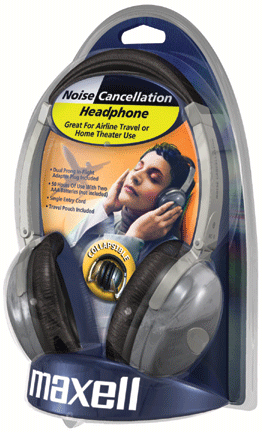 Maxell's new HP/NC-II noise cancellation headphones are said to eliminate up to 95 percent of ambient sounds, such as aircraft engine noise and traffic sounds. With noise greatly reduced, your music can come through clearer at a lower volume level--you don't have to "crank it" up to hear over the noise possibly causing ear damage if you like to listen for long periods.
I tried out these Maxell phones on two recent airplane trips with excellent results. The phones come with a standard, nickel 3.5 mm plug and adapter jack for the airplane's audio system and they collapse and fit into their own carry bag. At the end of the long headphone cable is a small, inline "pod" for the batteries, electronics and power on/off switch. In the airport, I switched them off since I didn't need any noise canceling in the terminal. On board during the flight, I found I didn't have to blast the movie's sound over the roar of the engines and that the sound was clearer than ever. There is a noticeable roll off of the high frequencies when you switch to noise canceling mode but it is not objectionable. When listening to my MP3 player or any other music source, I compensate by tilting up the highs with the tone controls. The phones are lightweight and fit very comfortable without sweating or sticking to your head--great for long flights.
Some specs: Impedance is 60 ohms; the drivers are 40 mm in diameter with neodymium magnets; sensitivity is rated at 102 DB; max input is 100 mw; and the frequency response is stated as: 10-28,000 Hz.
The Maxell Noise Cancellation Headphones II run for 50 hours on two AAA batteries and sell for $49.99 MSRP. For more information call 800-533-2836
---