McPherson Acoustic Guitars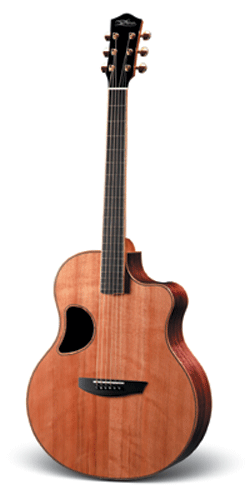 Every feature used on the McPherson line of acoustics is about sound and playability. The unique off-center soundhole was conceived after it was found that the traditional center-hole design robs the top plate of the guitar of open, flexible surface area. By moving an elliptically shaped soundhole to the edge and closer to the upper bout, an increase in volume and quality was obtained. McPherson's cantilevered neck, where the last seven frets and neck hover over the top instead of touching it, also contributes to better top plate vibration.
McPherson acoustics come in variants made using different back/top wood combinations. East Indian rosewood back and sides can be paired up with redwood, bear claw Sitka, Engelmann or cedar tops. Quilted maple, stripped Macassar ebony, flamed walnut, and Brazilian rosewood are also available by special order. There are also three different body thicknesses available. All models come with the integrated Buzz Feiten Tuning System™ for optimal intonation.
Prices for McPherson standard guitars start at $4,000 with custom wood combo's starting at $5,000. Electronics are also available by special order. For much more, contact McPherson Guitars at 1204 Roberts Road, P.O. Box 260, Sparta, Wisconsin 54656. Telephone 608-366-1407 or visit www.mcphersonguitar.com.
---