Mezzo 4 Data Archival Software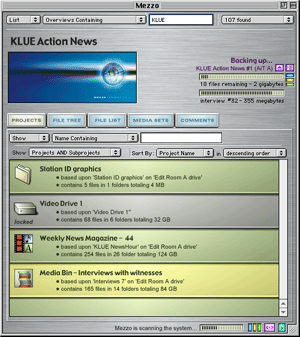 Mezzo Generation 4 is an automatic, project-based archival and data management software package for the backup of digital media. Digital media systems such as Pro Tools, Digital Performer or Apple's Final Cut Pro all have their own customized data formats for temporary storage of precious digital audio or video files. I say "temporary" because it is necessary to backup all a system's hard drives at intervals during the project and then permanently, for archival purposes. With the huge files sizes now common to 24/96K audio and digital video projects, periodic backup is a necessity to prevent data loss disasters. This disaster is especially painful when no time was allotted for data backup or you just forgot to do it!
Mezzo 4 scans every drive for all audio and video files related to the project, either locally at your workstation or over a network, organizes them into a main project document and then copies it to an external tape drive such as the IBM 3580 LTO drive. An essential feature of Mezzo is that it does this process in the background while you are working away without any interruption to your workflow or system slowing. Clients love this since they are not held up at the end of the session waiting for backups to run.
Mezzo 4 is a "drag and drop" interface that is ready to work with Apple Final Cut Pro, Avid Media Composer and Express Unity, Adobe Premier, Digidesign Pro Tools, MOTU's Digital Performer and Media 100's system. Mezzos 4 is from Grey Matter Responses and for more information, visit www.mezzotechnologies.com
---