DM2 Digital Music Mixer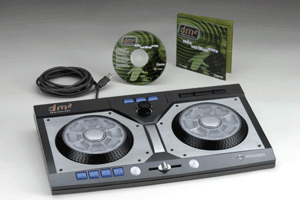 The DM2 or Digital Music Mixer is a joint project by Apzu, Inc., a wholly-owned company of Mattel, Inc., and Beatnik, Inc., a leading provider of enhanced audio solutions and content for digital devices, games and the Web. The DM2 is an integrated hardware-software system that enables you to create real-time club music mixes without prior turntable or studio experience. DM2 connects to your PC by way of a USB cable and runs a customized Beatnik version of MixmanČ software package letting you access computer music files "on-the-fly" instantly for DJ-style mixing and scratching.
With the ability to simultaneously combine and manipulate up to 16 tracks of digital audio from a library of over 600 audio tracks, DM2's dual, independent scratching rings let you work with up to 128 samples for an unlimited number of music remix versions. Mixman's patented auto-beat matching feature makes it easy for first-time users to create pro-sounding mixes and there is a joystick control for applying Mixman's Wideband Audio Real-time Processing (W.A.R.P.) effects like flange, jimifuzz and dub delay. The DM2 also has cross-fader and transformer buttons that function like controls on a professional, turntable DJ mixer.
The DM2 comes with 30 Mixman Singles™ that are broken out into individual audio elements, including keyboard, bass, vocals and more. Users can also visit www.mixman.com to download additional Mixman Singles, some at no cost. Remixes can be saved, emailed or exported in a variety of formats including: RealAudio®, Windows Media™, and WAV files. DM2 users can also upload their final creations to Mixman Radio™ enabling them to share their music with users from around the world.
The DM2 sells for $119.95 and is available now at www.mixman.com and will be in retail stores nationwide this Fall. For additional information, visit on the Web: www.my-dm2.com.
---