Performer Edition MiniMoog Voyager

See Update Below!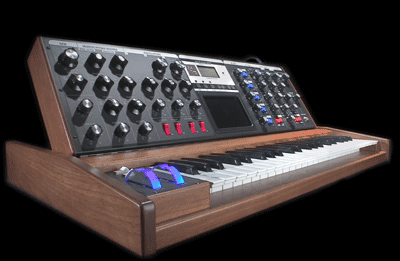 The Performer Edition Minimoog Voyager incorporates all of the sound resources and functions of the original Model D Minimoog along with these new additional features: a three-dimensional touch surface interface, a velocity-sensitive keyboard, full MIDI implementation, extensive patching facilities, and a whole new control panel.
Like the original, Voyager was designed by electronics pioneer Bob Moog and is paneled in oak with a walnut finish and comes with 128 preset sounds. Other features include three wide-range, high-stability voltage controlled oscillators, one noise source, and one audio preamplifier for external audio signals. The sound modifiers are two Moog filters and one stereo voltage controlled amplifier.
Modulation sources are two envelope generators and one multi-waveform low frequency oscillator. Control devices include the 44-key keyboard with velocity and after-pressure outputs, pitch bend and modulation wheels, a three-dimensional touchpad, and many control/pedal input jacks.
Optional accessories include a hi-intensity gooseneck lamp, blue backlit pitch and mod wheels, a molded or aluminum ATA road case and a gig bag with backpack style straps and the Moog logo. You can also add the VX-351 Control Voltage Expander for modular synthesis capability and extra outputs for the Voyager's control voltages and gate signals.
The Minimoog Voyager sells for $2,995 MSRP and comes with a hinged, multi-position panel and a solid hardwood cabinet. The universal power supply accepts any voltages from 100 Volts to 240 Volts. Additional information, authorized dealer listings and specifications are available at www.moogmusic.com.

March, 2004 Update!

From a Moog press release.

Moog is now releasing new Software for their Minimoog Voyager -- Operating System 2.0 -- which is field upgradeable and available FREE for existing Voyager customers on the Moog Music website www.moogmusic.com.
---