A Musician's Guide to Pro Tools by John Keane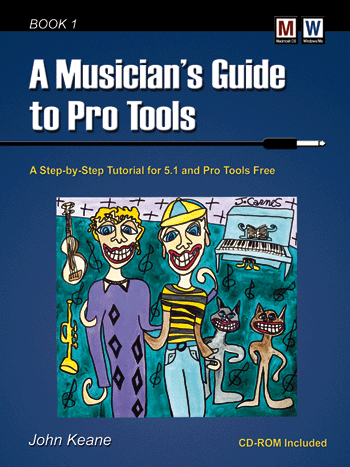 Record producer/engineer/musician John Keane is a natural to write this beginner's book that de-mystifies the now ubiquitous and defacto standard in studio music recording, Pro Tools. This non-technical book provides tutorials with very specific step-by-step instructions for recording, editing, and mixing home demos using Pro Tools ver5.1 and Pro Tools Free software.
The frustrations of weeding through reference manuals are replaced with serendipity: an included easy-to-follow, actual Pro Tools session on CD-ROM. Using a "take you by the hand" teaching process, you will learn the best ways to accomplish common Pro Tools processes in the fastest and least tedious manner. Pro Tools sessions can mean hours of "trench" work so you need to learn about organization, backing up your files, importation of other music files, and all the many cool short cuts and possible hazards to avoid. A Musician's Guide to Pro Tools is an absolute must-have for beginners as well as experienced users as an immediate reference for the new or little used features of PT.
Complete with both MAC and PC clippable "power user" cheat sheets and a good index, A Musician's Guide to Pro Tools is available for $39.95 and can be ordered online directly from the Supercat Press web site at www.supercatpress.com or by sending $39.95 plus $4.00 for shipping (in Ga. add $2.80 tax) to Supercat Press, Ltd., 165 Hillcrest Avenue, Suite 107, Athens, Ga. 30606-2947.




Musician's Guide To Pro Tools
---