Native Instruments Guitar Rig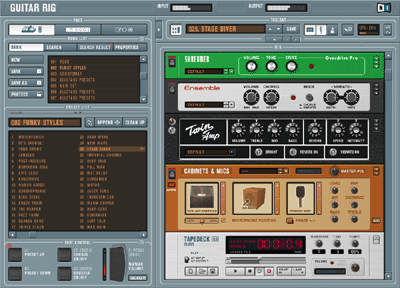 Guitar Rig combines a virtual 'rack' of guitar processors with a real, especially designed guitar pedal board. Like having a whole music store of gear under your control, you'll explore using vintage to modern guitar amps, cabinets and pedals as they are impulse response modeled on your computer with Native Instruments Dynamic Tube Response technology.
There are three classic tube amp emulations developed through a detail analysis of the Mesa/Boogie Rectifier™, Fender Twin Reverb™ and Marshall Plexi 50W™. After choosing an amp, use the Cabinets and Mics module to pick between fifteen different speaker models (with up to eight at the same time) and five different mic models that can be placed in four, different and commonly used recording positions. Finally, add any of 20 effects, vintage stomp-boxes and modern effects including distortion, modulation pedals, dynamic effects, Talk Wah, Wah Wah and spring reverb. Interestingly, Guitar Rig allows for nearly any combination and chaining order of amp or effect including parallel twin amps with different cabinets and effects.
The Rig Kontrol unit has four footswitches and a parameter pedal for convenient preset selection and direct control over any assigned parameter(s) of the currently running Guitar Rig patch. Parameter data is transmitted from the Rig to the computer via a second dedicated audio channel--no MIDI. Rig has a high-quality D.I. box for connecting your guitar to the computer soundcard so there is no additional hardware to buy.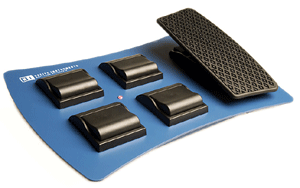 To complete the package, Guitar Rig comes with two Tape Deck modules for playing and recording along with any music track playing in your computer. These subsystems have a metronome, tuner and a whole library of loops in many styles to get you going. You can record, playback and edit. Guitar Rig can run as a standalone application without the need of learning any host software and the foot controller makes it possible to use it without touching, or even seeing, the computer. With support for all major plug-in formats and audio sequencers, Guitar Rig will be ready by June 2004 for $499 MSRP and for more information, contact Native Instruments at: www.native-instruments.com
---