New Frontier SurgeX®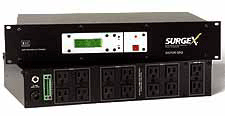 The SurgeX® SX21220-SEQ is an updated power conditioning and surge protection device from New Frontier Electronics. The unit will protect up to 14 pieces of audio, video or computer equipment from harmful power line surges, brown-outs and noise. The SEQ suffix indicates that unit will sequence the powering up and down of many individual units within a large system. A good use for a power sequencer would be in a recording studio where you might turn on the tape recorders and outboard equipment first; then power on the console next and the monitor speaker amplifiers last. This sequence of events prevents the console from seeing startup pops and noises from the tape decks and outboard gear and the console from sending pulses to the speaker power amps that could damage the speakers.
The rear panel of the SX has three individual banks of four 120-volt outlets plus two sockets that stay hot all the time. All functions and time delays are programmable from menus on the front panel LCD display with all settings stored in non-volatile memory. Multiple SX units can be chained together for powering up whole work areas such as a room full of computer workstations or a multi-studio facility. The SX is rated for 20-amp service and uses the company's proprietary Impedance Tolerant™ EMI/RFI filtering. There is also a brown-out detection scheme to shutdown selected outlets.
The unit sells for $799 and meets Grade A, Class 1, Mode 1 Federal Guidelines. For much more about it, you should contact New Frontier Electronics at 2744 N. Sugar Rd., New Hop, PA 18938. Call them at 215-862-9344 or Web to: www.frontierelec.com
---