Norton SystemWorks™ for Mac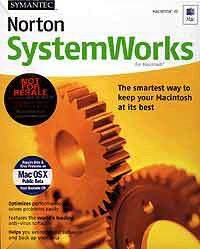 The latest Norton software suite from Symantec is called Norton SystemWorks™ for Macintosh®. Symantec reaffirms the Mac's strong position as the platform of choice amongst artists, writers and other creative people with this suite of applications for optimizing performance and fixing disk media problems.
Norton SystemWorks includes: Norton Utilities 6.0, Norton AntiVirus 7.0 and LiveUpdate™ 1.6 all for Mac. Selling for $130 MSRP with upgrades at $80, SystemWorks is for all Mac operating systems starting from 8.1. It will also run with Mac OS X via the software's bootable CD-ROM, without the need for additional software. Norton Utilities main benefits are disk repair, optimization and lost data recovery. Norton AntiVirus scans all incoming files to your computer for damaging viruses. Aladdin Spring Cleaning™ frees up space on your hard drive and uninstalls old programs and all related files without deleting anything else. Also included is Dantz Retrospect Express for quick backup copying of your data to any removable media like CD-R, Zip, Jaz, SuperDisk® or DVD drives.
Norton SystemWorks is from Symantec Corporation at 20300 Stevens Creek Blvd., Cupertino. CA 95014. Call them at: 408-253-9600 or Web to: www.symantec.com
---