SystemWorks™ for Macintosh® 2.0 from Symantec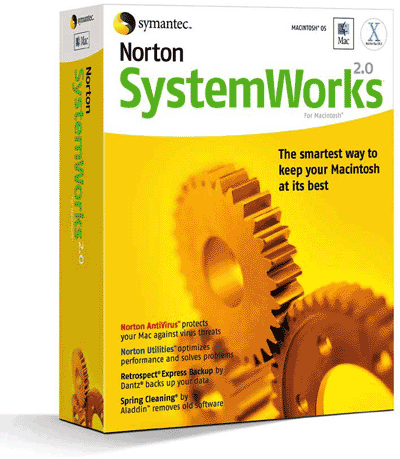 From Symantec comes Norton SystemWorks™ for Macintosh® 2.0. This latest version contains Norton Utilities 7.0, Norton AntiVirus 8.0, Aladdin Spring Cleaning™ and LiveUpdate™. Selling for $129.95 MSRP with upgrades at $79.95, SystemWorks 2.0 is really two complete versions for all Mac operating systems starting from 8.1 to 9.x and now exclusively and natively for MAC OSX v 10.1 or higher.
Norton Utilities main benefits are disk error repairs with Disk Doctor™, hard drive optimization using Speed Disk™ and rebuilding drive directory structure with Volume Recover™. DiskWarrior Recovery Edition by Alsoft will scavenge your hard drive for all files to allow you to recover files and folders. Norton AntiVirus™ scans all incoming files to your computer for damaging viruses using a database of the newest virus updated using Norton Scheduler and Live Update™, a Symantec exclusive service provided for one year free with each install. (You can extend this service for a small annual fee).
Aladdin Spring Cleaning™ frees up space on your hard drive and uninstalls old unused programs and all related files without deleting anything else. Spring Cleaning will remove the detritus of Internet sessions like cached files, cookies and history logs. Also included is Dantz Retrospect Express® for quick backup copying of your data to any removable media like CD-R, Zip, Jaz, SuperDisk®, DVD drives, the new MAC SuperDrive® or to a secure server on the Net using EasyScript Wizard.
Norton SystemWorks is from Symantec Corporation in Cupertino, CA. Telephone them at: 408-253-9600 or Web to: www.symantec.com
---