Parker Guitars' Fly Mojo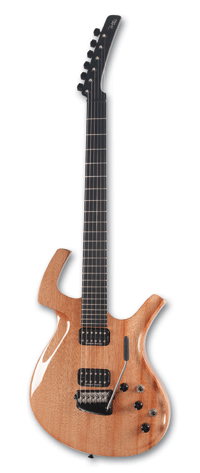 Fly Mojo differs from previous Parker Fly guitars with its body and neck made from a single piece of select mahogany. The neck is covered with Parker's trademark carbon glass fretboard fitted with harden stainless steel frets. The combination of the mahogany wood and Seymour Duncan's pickups--a Jazz pickup at the neck and JB at the bridge as well as a six-element Fishman piezo make this Fly model exude a rich and thick tone.
Other good things are: a new custom Fishman stereo pre-amp with 200 hours of battery life and twice the headroom made possible through a voltage doubler; automatic stereo/mono output plug switch; custom hard-shell case; and a choice of natural mahogany, Transparent Cherry or Transparent Butterscotch Reverse Burst Finishes.
Shipping August 2003, the Parker Mojo sells for $3,498 MSRP and for much more, contact Parker Guitars at P.O. Box 388 Wilmington, MA 01887. Telephone 978-988-0102. Visit www.parkerguitars.com.
---