Pedal Pad MPS from MKS Professional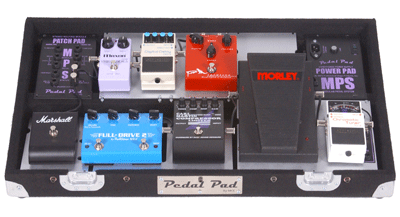 MKS Professional Stage Products has the new Pedal Pad MPS, a complete pedal board made from 1/2-inch plywood and complete with a regulated power supply with eight 9VDC outputs and two 120VAC outlets. All 9VDC power sources are surge and spike protected. The Patch Pad Stereo Routing Module comes with the MPS and provides a way to run two amps, external effects and stereo pedals.
The Patch Pad also lets you use the effect loop and channel switching from your guitar amp within a second channel. Another useful feature included is the two-tier step design where raising or lower panels provide extra room for larger and wider individual pedal; so they fit neatly along side smaller stomp boxes. The MPS comes covered in cabinet style carpet fabric, uses .08 aluminum case hardware and includes: eight, 24-inch DC cables, a ten-foot IEC AC cord and eight, Velcro® hook and loop fasteners to keep everything neatly plugged in and ready to go. The interior measures (with lid off) 26 1/2-inches wide and 13 3/4-inches deep.
The Pedal Pad MPS sells for $259 MSRP. For more information, contact MKS Professional at 785-862-4723 or visit www.pedalpad.com.
---