Pinnacle Systems' Studio Deluxe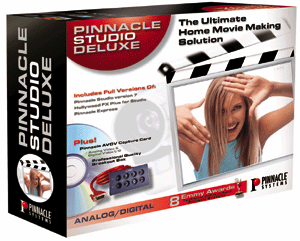 Studio Deluxe lets you edit analog and digital home movies and then burn DVDs all on your PC. Costing just $299, Studio Deluxe comes with a desktop breakout box and a video capture card that goes inside your PC. The breakout box is an interface that allows either analog or digital video input/output from video cameras or decks. No additional FireWire board is required. The software package includes: Studio 7, Pinnacle Express DVD creation software and Hollywood FX Plus professional-style transition effects software.
Your editing process would go something like this: using Studio 7, captured video scenes are dragged and dropped onto a storyboard or timeline view in any order. Then, with Hollywood FX Plus, add enhancing touches like any of over 100 scene transitions (wipes) and 300 different title/fonts. Go further by adding new sound or Foley effects, narration and musical soundtracks. The SmartCapture feature saves hard drive space by digitizing video in a low-resolution file format (300Mb/hour), for editing and then recaptures video at full resolution for final output. SmartSound automatically aligns musical soundtracks to the duration of the video. For final output, use Pinnacle Express to burn a DVD complete with interactive menus.
PC system requirements are: Pentium II or Athlon 450mHz or higher, 128 mB RAM, Windows 98SE, Me, or 2000, DirectDraw 6.0 or higher compatible sound and video cards, CD-ROM Drive, 200 MB of disk, hard drive sustained throughput of at least 4mB/sec. Get more information from Pinnacle Systems at 650-526-1601 or www.pinnaclesys.com
---