Planet Waves Instrument Cables From D'Addario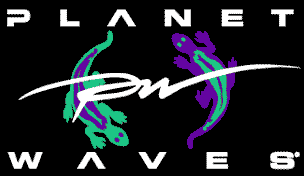 Planet Waves, part of D'Addario, offers premium instrument cables that are the first in their new line of cable products. I received a fifteen foot cable with gold-plated plugs that use eight unique compression springs to ensure a good connection every time with the mating jack. The plugs are double-molded with large strains relief that look like they could tow my pick up truck. Another cool feature are the changeable color-coded O-rings for easily indentifying many different similar looking cables going to equipment.
The cable wire itself is extra heavy duty with a tough polymer outer jacket and a copper-braided shield with 95% shielding coverage. Shielding is increased to 100% with another double-sided metalized polyester foil inner shield. The inner conductors are a twisted-pair of stranded copper wires covered in foamed polyethylene for lower loss and capacitance making for less loss of high frequencies of your guitar or keyboard. There is a second, outer insulation made from PVC that eliminates handling noise. The plugs are soldered, covered with internal copper shield tubes and then over-molded with rigid PVC that encapsulates the solder joints.
For much more about Planet Waves' instrument cables as well as the whole Planet Waves line of guitar accessories, contact J. D'Addario & Company at 595 Smith Street, P.O. Box 290, Farmingdale, NY 11735. Phone them at: 631-439-3300 or Web to: www.daddario.com
---