Planet Waves Bantam TT Cables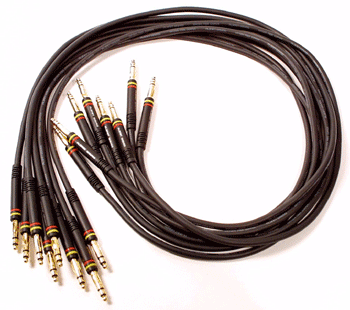 Studio owners will love this new source of TT patch cables that have a patented design that uses ultra-fine stranded quad conductors with 100% oxygen-free copper shielding. "TT" or tiny telegraph cables are standard issue patch cords in pro studios with many home studios now stepping up to this highly reliable and better sounding patching system. The dual insulation helps maintain the cleanest signal free of hum, buzz and other noises caused by lesser quality patch cords.
Like other Planet Waves cables, the bantam cables' plugs are plated with 24-karat gold for the best conductivity possible and feature patented compression springs that keep the plug in the patchbay jack without worry. The plugs are over molded with a durable, yet flexible polymer providing an ergonomically shaped plug housing that protects the solder joints and strain relief.
Available in two, three and ten-foot lengths and (optionally) with both XLR and 1/4-inch plugs at opposite ends, Planet Waves Bantam TT cables range in price from $26.99 (for a pair of two-footers) to $99.99 (for a pack of eight). For more information and complete pricing, contact Planet Waves c/o J. D'Addario & Company at 595 Smith Street, P.O. Box 290, Farmingdale, NY 11735. Telephone them at: 631-439-3300 or visit www.planet-waves.com.
---