Pocketec Portable USB 2.0 Hard Drives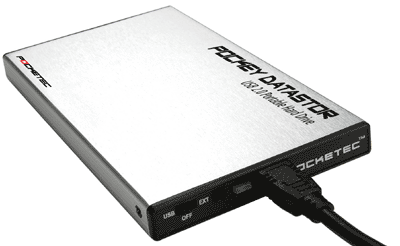 The Pockey-DataStor USB 2.0 hard drive is a great way to transport large music audio files to and from different computers. If you co-write with several different songwriters, you probably have been burining CD-ROMs and reburning after you've made additions or changes. With a Pocketec drive just hook up to any powered USB port and transfer files anytime anywhere. Only a 5x3x1/2 inch shirt pocket size unit, the Pockey-DataStor comes in 20GB ($199), 30GB ($249), and 40GB ($299) sizes with enough room to store thousands of mp3 files, Pro Tools audio files or any files you want"mix and match at will. Pockey-DataStor is fully USB 2.0 compliant with transfer rates up to 480 mbps; that's 40 times faster than USB ver 1.1. The Pockey-DataStor is self-installing under Windows, ME, XP, and 2000, but to get it to work on my flatpanel iMac, I had to format it first using the Disk Utilities program that comes with OSX. An important feature is that files on the drive are cross-platform for sharing back and forth from PC to MAC.
The Pocketec drives are powered by the USB port itself and an AC adapter is included if you're connected to a non-powered port like your keyboard's. Hot-swappable means you can connect and disconnet while your computer is running and the Pockey-DataStor comes with its own special cable and protective carrying case. Go to www.pocketec.net for more information and to purchase.
---