Black Dagger Amp from Pritchard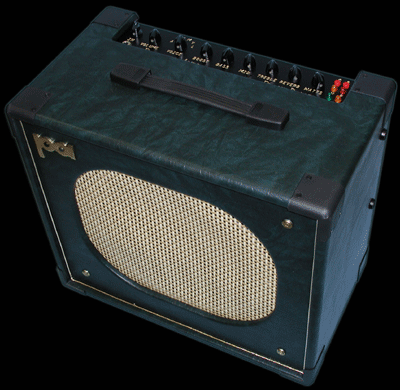 The Black Dagger guitar amp is one of many solid-state guitar amps designed by Eric K. Pritchard. Pritchard's overall thrust is to produce a combo solid-state guitar amp that sounds so good that it inspires you to play more and better. His patented XGPA (that's eXaggerated Grid-Plate Action) models (with solid-state componentry and design) typical non-linear interaction within tube circuits used for pre-amps and power amps. With XGPA, these anomalies are controlled and exaggerated for a fatter tone and increased harmonic content.
Features and controls on the Black Dagger models include: Watts Knob and Practice jack for keeping your tone and sound the same no matter how quiet you want to play by compensating for hearing changes in the bass region at lower levels; the Voice Switch is an six-position tone selector for choosing sounds inspired by acoustic guitars to Jazz to American amps to famous British amp tonal shapes; three-band tone controls; a reverb control for the internal spring unit; Boost and Crunch knobs; and Treble/Mid Noise Gate Indicator.
Pritchard amps use an integrated circuit for the power output stage because they have better protection than standard transistor output stages, So there are no worries when it comes to short-circuit protection (shorted speaker cables), over-voltage protection (whoops!), and over-current and over-temperature protection.
Other interesting Black Dagger amplifier features are: 60 watts clean and 90 watts dirty power; silent FET switching; external speakers jacks for both gig and practice; send and return effects loop; equalized direct jack output; amp direct out and microphone input; and shock mounted 1/8-inch welded aluminum amp chassis.
The Black Dagger cabinet uses 12-millimeter-thick Baltic birch, box-joined and is finished with green/black Tolex® with a cane speaker grill. There is also a choice between a closed-back and Pritchard's patented Tunnel Back cabinet design and either a single twelve or fifteen-inch or four, ten-inch speakers.
MSRP for the Black Dagger ranges from $1,767.50 to $2,166.25. For more about these retro-looking combos, contact Pritchard Amps at 877-762-6665 or visit www.pritchardamps.com.
---