Propellerheads' ReCycle 2.0

See Recycle 2.1 Update!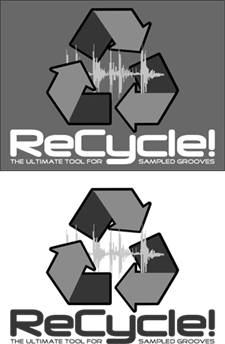 Read About The Latest Propellerheads Reason/Record Bundle!

ReCycle 2.0 is a major upgrade for the Swedish company Propellerheads acclaimed ReCycle program. ReCycle is a standalone program that analyzes the rhythmic components of any music sample and "slices" or subdivides it into individual percussive events or samples. This automatic process allows music creators to incorporate loops and snippets from disparate sources into cohesive music compositions.
This is because, after processing, you can alter tempo and pitch, replace sounds and dramatically change the 'feel' of any music by way of standard MIDI sequencer quantization manipulation since a concurrent MIDI file (tempo map) is created based on the loop's original timing variations. ReCycle also has built-in compression, EQ and a Transient Designer that modifies the attack and release characteristics of percussive sounds. "ReCycled" loops can be saved in any of a variety of file formats with REX2, now the native saved format.
Changes in 2.0 from ReCycle 1.7 are: support for stereo files -open stereo audio files and import stereo files from a hardware sampler and then save/export them as stereo after slicing them; preview listening - preview and listen to the loop at new tempo and pitch settings in realtime; move the slices you have added manually; realtime effects -such as EQ, envelope stretching including attack and delay, and transient shaping; and AKAI S-5000/6000 and SMDI capable.
Propellerheads is located in faraway Stockholm, but you can learn more about ReCycle from their Web page: www.propellerheads.se. ReCycle is distributed in the United States by Midiman Inc. at 626-445-2842.
---