Recycle 2.1 from Propellerhead Software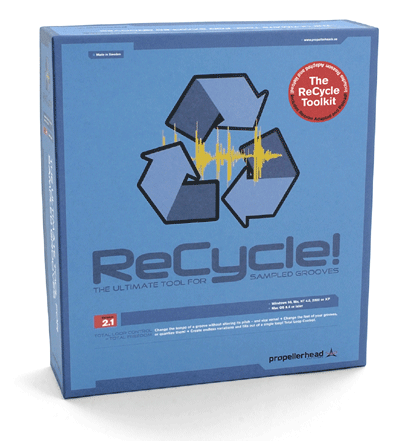 Read About The Latest Propellerheads Reason/Record Bundle!

It's a joy to see and use ReCycle 2.1, the latest version of this very popular software. Recycle analyzes and slices stereo audio drum loops and renders audio elements and sequencer data (MIDI) as REX2 files. You can also export a 'recycled' loop as a single sample in any standard digital audio format such as .wav or. aiff. While in REX2 format, a loop is endlessly malleable--just like programming a virtual MIDI instrument. With the loop now quantized, tempo and pitch are independent so you can adjust timing, pitch, tempo, swing strength or even the time signature to fit your song. You can replace the snare and/or kick within the loop with new samples or conversely, extract those elements out of the loop. Furthermore, you can use the accompanying MIDI information as a tempo map for your sequencer to conform the rest of the instruments to follow.
Now fully matured into a wonderfully working suite of tools that includes: Reason Adapted, a streamlined version of Reason with Dr. REX, a REX2 file player, a mixer, and effects; the NN-XT sampler; the Reason Sampler; and the Reload utility for importing Akai samples, Recycle 2.1 is all you'll need process any drum loop. As a Rewire client, Recycle allows for direct importation of fully edited and treated loops into Cubase, Nuendo, Pro Tools, Logic and others.
Recycle comes with three, onboard effect processors: Envelope alters the volume of each slice with Attack and Decay parameters; Stretch adds length to each slice to cover gaps that occur when slowing down a loop considerable; and Transient Shaper (my favorite) is for hardening (or softening) the attack of each slice. This sounds something like a compressor but not.
Recycle 2.1 runs in both PCs and MAC/OSX computers and sells for $229 MSRP. For more information and to get ReCycle 2.1 as a free update for registered users of Recycle 2.0 with a CD, go to: www.propellerheads.se.
---