True Blue EQ from Raven Labs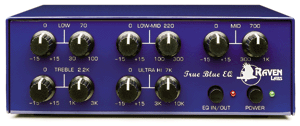 The latest entry in the small, battery-powered line from Raven Labs is the True Blue EQ, a five-band, semi-parametric equalizer that works in parallel to the audio signal rather than in series. Boost or cut is achieved by adding or subtracting to the original signal in a parallel arrangement. Most EQs pass the audio through a group of active, series circuits that can muddy the signal and cause phase shift and undesired harmonics.
A unique feature of the Blue are the asymmetrical boost/cut controls: a fixed bandwidth (called Q) in boost mode was chosen for musicality, and is a function of frequency. Bandwidth in the cut mode is narrower, creating more of a notch filter affect for reducing feedback or dealing with "hot" or "dead" spots from certain instruments.
The five overlapping, fully-sweepable frequency bands are: 30 to 100Hz, 100 to 300Hz, 300Hz to 1kHz, 1kHz to 3kHz and 3kHz to 10kHz. You can boost or cut up to 15 dB and there is an EQ In/Out switch with LED indicator along with a power on/off and LED. Both 1/4 inch TRS balanced and unbalanced input and output jacks are on the back panel as well as a dual nine-volt battery holder and A/C adapter In/Out jacks. Like all the Raven Labs products, True Blue operates on two nine volt batteries for over 100 hours of battery life.
With low a distortion of just .002% @ 1kHz, noise at -90 dBv and a frequency response rated at: -3dB @ 10Hz to 63kHz, I found using the Blue EQ just like any other professional EQ: clean and accurate. A great sonic "carver", the Blue EQ from Raven Labs sells for $349 MSRP and comes with a three-year warranty. For much more it, contact Raven Labs at 818-368-2400 or e-mail to: ravenlabs@aol.com or WEB to: www.raven-labs.com
---