Mouse 30 Fretless Bass from Rob Allen Guitars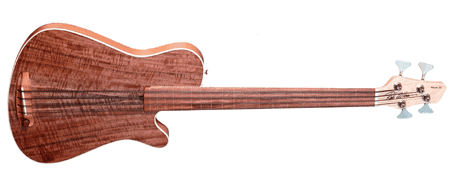 After Rob's MB-2 bass comes the Mouse 30 short scale bass. This compact bass has a 1 5/8-inch nut, 30-inch scale and 18 lined (marked) positions. The Mouse's upright tone comes from a goncalo alves fingerboard, maple neck, alder body and curly claro walnut top all finished in satin lacquer. This instrument weights just five and half pounds do mostly to its diminutive 38-inch total length (about the size of a Fender Telecaster) and semi-hollow body construction with internal cavities running above and below the neck centerline.
La Bella 760N black nylon wrap strings and HipShot ultra-light tuners are used along with a Fishman piezo pickup mounted under a Corian saddle. There is a nice looking cocobolo volume knob way out of the way down on the bridge.
The Mouse 30 sells for $1,650 with gig bag (hardshell case available) and for more information contact Rob Allen Guitars in beautiful Santa Barbara at 805-965-9053 or visit www.roballenguitars.com.
---