Roland CDX-1 DiscLab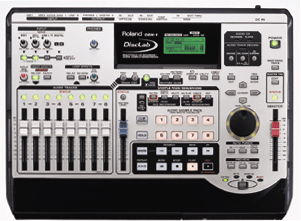 The CDX-1 DiscLab is a phrase sampler/hard disk recorder with built-in CD-RW (CD burner) drive. All aspects of music production from phrase sampling to eight-track digital recording to effects processing, digital mixing and mastering are possible with this single unit. The CDX-1 is the first audio workstation that multi-track records directly to CD-RW media. At the same time on the CDX-1 you can construct your own loops using BPM sync, edit samples and then multi-track record.
Up to 64 samples or phrases are stored and recalled using the eight, onboard sample pads organized into eight banks. You can record phrases into live inputs just as you'd record up to two audio tracks simultaneously (for vocals or guitars) directly into the separate 8-track multi-track. Any sample CDs or CD-ROMs using .wav files can be imported into your session and used. The CDX-1 uses the same editing functions as the SP-808EX e-Mix Studio to truncated, loop, normalized"even time compressed audio. From there, they can be processed using two onboard stereo effects processors, re-sampled and arranged into four stereo or mono Phrase Sequence tracks.
Other included features reads like Roland's greatest hits: 24-bit A/D and D/A converters; built-in Rhythm Guide/Drum Machine with patterns; COSM Guitar processor for recording guitars direct; a center channel cancel effect for removing vocals on recorded songs; complete MIDI; two XLR and two 1/4 inch microphone inputs; a stereo line input and guitar input; coaxial and optical digital inputs; Mastering Tool Kit with split-frequency compression and 4-band EQ"for producing professional-quality masters.
For more information contact Roland Corporation U.S., 5100 S. Eastern Ave., P.O. Box 910921, Los Angeles, CA 90091-0921, 323-890-3700 or visit: www.rolandus.com
---