Roland V-Synth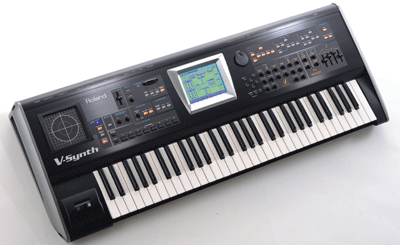 Key to the whole sound and operation of Roland's new 61-note V-Synth are the different oscillator technologies used and the keyboard's unique interface to exert control over them. V-Synth uses two variable oscillators that utilize three different sound generation techniques. First, there is a PCM oscillator with up to 999 user-sampled waveforms (300 waveforms are included from the factory) running under under Roland's existing VariPhrase™ technology for independent control over pitch, time and formant. Next, Analog Modeling provides nine traditional waveforms; and lastly External Audio Processing lets any external sound function as a synth waveform. All oscillator types can be mixed and layered in several ways, or modulated using FM, ring mod and hard sync. A new Time Trip function lets you experiment with a waveform's time domain: speed up a waveform, slow it down, or freeze it in a steady state.
The V-Synth uses preset Structure types and, like a semi-modular synth, front panel (real) knobs, sliders and buttons directly access all sound parameters within these structures. There is a touch screen for more detailed programming changes that also responds to hand gesticulations such as dragging motions and finger tapping. COSM processors include: models of analog filters, wave shaper (distortions), resonator, a side-band filter for extracting sharper, metallic content of sounds and another new tool called polyphonic guitar amp modeling. V-Synth also provides a dedicated reverb, chorus, and 41 multi-effects algorithms for global effects.
The all-fun side of the V-Synth is the interface. With the TimeTrip touch pad, use your fingertip to scan waveforms forward and backward while waving your other hand over the infrared Twin D-Beams to modify a range of different controllers. With both analog and digital I/O, you can sample waveforms and also exchange .WAV/AIFF files over the USB port. If all of this doesn't keep you busy enough, you also have Roland's proprietary V-Link technology to trigger and manipulate externally running video clips using the V-Synth's keyboard, bender and TimeTrip Pad.
For more information, contact Roland Corporation U.S., Web to: www.RolandUS.com
---